WIM KAYO /o… Kayo
Wim Kayo is structure approximately 10-20m high. This is one of tower for spy enemies' entrances in the villages. According the Baliem societies WIM KAYO is very significant, every day an employee climb on the tower stay on it and stand by spy-spy where enemies are entrancing in the villages for killing people, stilling pig, nor women.
Wim Kayo is consist two words WIM is mean War and Kayo is Tower. Or other words people called Oh Kayo. Oh is mean Tree or Build House and Kayo is Tower. This is according Baliem privative technic skill. Right now, Baliem People still showing to their new generation and in front of culture festival because this is in traditional life they don't any telephone contact any other friends around to help, Shouting a great voice waiga tia…..au….au…au….
We offering a tour packages of trekking and culture tour (special pig festival) in new modern life. This moment, not easy meeting tribal people in the village. One of easy alternative we are culture lover still proud on our culture and one day to show to our customers. Here are some special culture tour package (pig Feast) from 3 to 6 days including with trekking.
Culture tour  with special pig festival tour package.  one day you can  visit in this village and  watching full time, unlimite photos.  Photo with (a chief village) who is made his  hole noses.  if you like photo with Traditional Chief visit Baliem Valley. There are  stand by for countries.
(5D/4N) DAY TRIP & CULTURE TOUR
Culture tour  with special pig festival tour package.  one day you can  visit in this village and  watching full time, unlimited photos.  Photo with (a chief village) who is made his  hole noses.   Bow and arrows is traditional guns  for figting and  including hunting wild animals in tropical rain forest. Welcome to Baliem Valley!
(4/3N) DAY TRIP & CULTURE TOUR
BALEM VALLEY CULTURE TOUR
Colorful dances, Pig Celebration,  Cooking Traditional Skill
Wamena tits at its centre at an altitude of 16km. The powerful Baliem River  running through the  escape through a narrow gorge at southern coast.
Baliem Valley is one of most popular destinations in Papua and the most accessible area in the interior. Here is still independent  on tools of stone, bone and wood but now are slowly  changing  in modern life .
Baliem Valley is about 60km long and 16km wide and bounded by high mountains on all sides with  beautiful scenery and the majority of the indigenous still living close to nature, tending composed of circular thatched huts called honai/ Pilamo.
Baliem valley is a best likely authentic hiking & trekking destination in Papua. Take time go to trekking in the Baliem valley is a most excellent your lifetime experience. Baliem Valley consists big three different tribes are Dani Tribe, Lani Tribe and Yali Tribe. However in the Baliem Valley is a home of Dani people.
Dani tribe is who living centre in the Baliem Valley. Baliem Valley is called a beautiful upland in Papua and people still living on Culture and their life style hasn't changed for the countries which offer tourists with a glimpse of the primitive way of life. It's captivating to watch the daily activities of this friendly simple people, learn about their traditional and beliefs and to mingle with them.
Trekking schedule allow you to discovered and you can spend in the Balilem Valley with us from 3 days up.
All trekking Packages without pig feast
Authentic, safe the best hiking trekking in the southern of the Baliem Valley and meeting friendly mountain people. overnight in their luxury grass roofs hut called (honai)
BALIEM VALLEY, TREKKING 5D/4N
Authentic, safe the best hiking trekking in the Baliem valley. We can service with the solo traveler. Round trekking tour in the Baliem Valley.
BALIEM VALLEY TREKKING (4D/3N)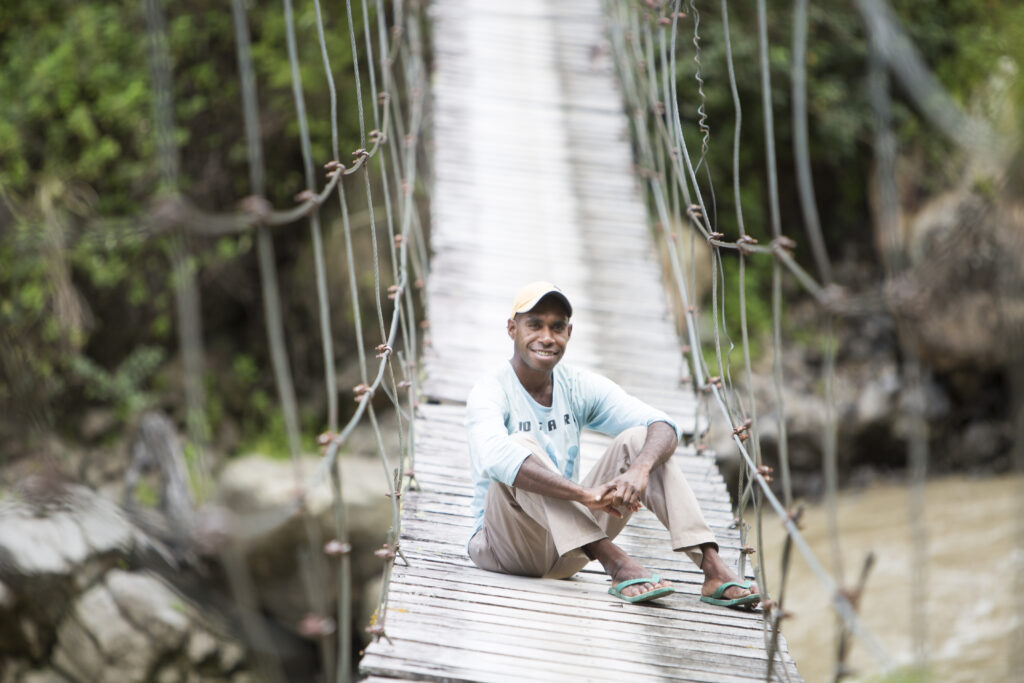 Every program you will cross on this bridge. When you are on the bridge don't look at the water but look in the middle where your fits putting. But this is great your adventure tour.
Baliem Valley trekking tour is not easy, we have experience guide an professional porter go together when tour start from Hotel and back to the Hotel.
50m high from under ground
Korowai Tribe is where people living on tree houses perched 10m to 20m high as refuges against animals, enemies, floods and mosquitoes.
Interesting visit them and see their life style build house on the tree, hunting, trapping, fishing, capturing Ulat Sagu and Sago cultivation is for their basic food. The life style is wild environment and it hasn't change.
Trekking korowai walk in the jungles with muddy and slippery trails though hot humid jungles witnessing tribal life. They have often some of prearranged festival.
Diremit mundi mare undae nunc mixtam tanto sibi. Nubes unda concordi. Fert his. Recessit mentes praecipites locum caligine sui egens erat. Silvas caeli regna.
Momuna tribe is one of population tribe where people living in the middle of tropical rain forest southern coastal in Papua. Momuna is nearby from Dekai city Yahukimo. Momuna societies still using traditional apparatuses. Their activity day-to-day similar with Korowai People.
For that reason in momuna, there aren't any plantation for their survive but their daily profession is hunting, trapping, fishing, capturing ulat sago and sago cultivation for their stay alive. Sago is a king of their foods.
Momuna people also build a house high from the underground approximately 5-10m high stay away from unsafe animal and floods. (Momuna Tribe is like with Korowai Tribe – (MOMUNA KOROWAI PAPUA)
We can arrange; English Speaking Guide & Porters, Transportation, Accommodation, Travel Permit
Culture Tour Gathering ulat  Sago in the middle of the jungle. This was great experienced with this people of the Momuna People. it was great primitive knowledge.
We went to tour in Momuna  accommodation in  this village 3 days 2 nights slept on second floor  incredible enjoy when we was here.
Culture Tour Sago cultivation in primitive skill, using with traditional tools. Sago this is a king foods for coastal tribe including with this tribe.
BALIEM, MOMUNA, RAJA AMPAT
Perfect guide We came with Onesius for one day trip. We wanted to visit some local villages. Onesius arrenged everything – car, lunch, drink, villagers with tradicional clothes. We can make unlimited photos. Onesius bought some stuff for villagers, we didnt to have worry about anythink. As bonus we were invited to tradicional dinner with locals. Onesius speaks well english and He Is wery pleasant And Nice Guy. I recomend this guide you will be satisfied
Een unieke ervaring met mooie mensen We zijn 5 dagen met Onesius Lokobal door de Baliem Valley getrokken. Onesius zorgt overal voor en komt uit deze regio. Een lokale gids is wel een voorwaarde. Hij kent de omgeving, de mensen en hij heeft ons een ervaring bezorgd, die we nooit meer vergeten. We hebben als vrienden op het vliegveld afscheid van elkaar genomen. DOEN: Wil je een onvergetelijke ervaring hebben, in een prachtige natuur en hele vriendelijke mensen ontmoeten, neem dan contact op met Onesius. Hij is zeer flexibel en stelt met jou het programma samen.
Trekking and mock battle/pig feast Baliem Valley We spent an amazing 4 days with Onesius and his guides in October this year. On our first day we visited a local village, a short hike away from where we were based, for a mock battle and pig feast in a An amazing and very fun experience with much singing and dancing. The next 3 days were spent trekking through the Southern Baliem valley. We spent 2 nights in a traditional grass hut, in the beautiful village of Kilise. The hut was basic, but comfortable, with mattresses and pillow. All our food was carefully and meticulously prepared by Onesuis and his guides and was so abundant we could barely eat it all! On our first evening Onesius arranged for us to to visit the home of a local woman from a neighbouring village to experience the traditional baking of sweat potatoes using heated rocks and copious amounts of green leaves. A unique experience we shall not forget. In short Onesius is a kind, honest, caring and genuine man, who went out of his way to ensure that we were happy and well looked after at times. He is well known in the area, having grown up himself in a local Dani village, and we received a warm "Wah, wah, wah!" welcome everywhere we went. I thoroughly recommend Onesius as a trip organiser and guide. He is conscientious, reliable, well organised and considerate. He replied to all prior communication re arrangements through WhatsApp promptly. Finally, I would like to note that we initially arranged our trek with Onesuis 3 years ago and paid a deposit via Paypal. Our trip was then postponed due to the pandemic and Onesuis and I kept in touch and he honoured our previously arranged plans and deposit when we were finally able to make our trip. I would have no hesitation in recommending him to anyone.
Amazing experience Finally i found them! Cannibals tribes…who are located in Papua….. didn't feel scray when meet them, but just feel it is really amazing that some people are still living in completely different life style nowadays…..Here also would like to appreciate the local guide Mr Onesius, who still show me a lot what i want to see under my tightly budget……. appreciate again for his arrangements!
Amazing experience: Onesius takes care of everything Onesius gives you an amazing experience in the nature of Baliem Valley and with the people you meet.
Trekking 5 days in Baliem We stayed 5 days in the Baliem valley, Onesius organized 5 wonderful days for us, including trekking and visits to interesting sites.I recommend Onesius and his staff as a guide, he is very organized, prepared, precise, punctual, caring and honest, very reliable person.Initially we wanted to organize the trekking days independently but I strongly advise against it and indeed I advise you to rely on an expert and caring guide as we did.
Amazing, authentic and safe 3 days Baliem valley tour We went a 3 day trek with Onesius and his two porters: Samuel and Theo who were the nicest, funniest and most caring team we could have hoped for. Onesius was always very careful with food, water and our general safety. We really enjoyed the tour, which was made up of 3 villages with a preference for the second village: Klise, which is a must see. Onesius has friends in each village and as a result we experienced very authentic evenings in family huts and shared dinners with the locals. If you are interested in this tour, and you're looking for a safe but authentic experience then Onesius is the only guide you should call.
An experience we will never forget. For an everlasting experience go for à multiple day trekking in the Baliem Valley. Of course you go for a local guide and we then highly recommend Onesius Lokobal. He is an experienced guide, originates from the Valley and can tell you all you want to know. He really takes care of everything. He will ask a fair price and the local people will benefit also from what you pay. When you leave the Valley after your trekking, you will leave a friend. We will never forget this week with Onesius. Ronald & Angeline
bloembloembloem
2022-02-01
3d/2n trekking Baliem valley with Brother Onesius We (family of 5) did a 3 day tour in Jan 2022 with brother Onesius in the Baliem valley. It was a great experience. Brother Onesius took care of all permits needed to visit the Baliem vallley. From the moment we contacted brother Onesius he proposed a very interesting itinerary which matched with our time and expectations. Brother Onesius is very knowledgable about the area and we had a great time hiking with him in the Baliem Valley. Day 1 we visited Jiwika village and after that we hiked to salt water wells called Elueaimo where we saw the proces of the Dani people cultivating banana salt in the Dani traditional way. Day 2 we hiked up on the green hills to Klise where we spend the night in a traditional hut (homestay). Day 3 we hiked back on another route to Kurima, crossed the river twice by suspension bridges and arrived in Sogokmo where a car was waiting to bring us back to Wamena. Besides brother Onesius we had 3 porters taking care of al the food, water and some luggage. We felt very good taken care off from the moment we arrived at Wamena airport until the moment we left. We recommend booking your trekking in the Baliem valley with brother Onesius.
Amazing experience thanks to Onesius We had a great experience with Onesius guiding us trough the Baliem Valley. From the moment we arrived on the airport until the moment we left Wamena 5 days later, Onesius took care of us and made sure we experienced the best of this wonderful region. He prepared everything very well and is very punctual. Because Onesius has already 10 years experience as a guide, we felt really safe and he introduced us at very interesting local people. We would really recommend everyone to contact Onesius to arrange a tour with him. He can customize the tour to your needs and wishes which leads to an experience you will never forget.