Look deep into our culture, and you will
understand everything better.
mention itinerary day by day
d1.arrival in wamena, baliem valley, papua
On the day arrival in Wamena airport English Speaking and my driver, they will pick you up at Airport.  After that starting direct drive to Baliem Pilamo Hotel. In this day also you can go to arrange travel permit in police office. After obtain travel permit we will make trek to northern where are some interesting you should visit they are Mummy in Jiwika village including with rural community. The villagers will accept you  with long shake hands wah wah wah.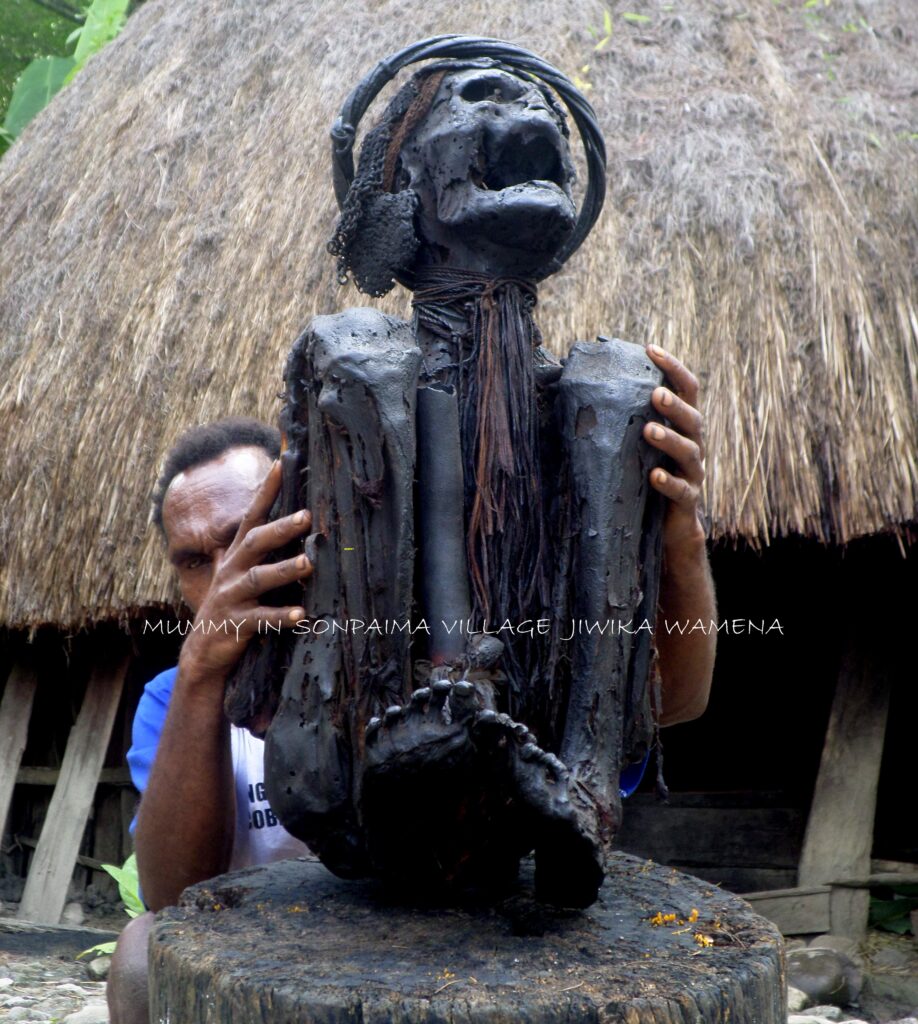 A hundred Years Old Mommy of the Mr. Wimontok Mabel. He is a chief of this village when he alive. He leave arrange with culture, politic, educations, and economy. More information you will understand when you are in this village
Salt Water wells in Baliem Valley, Dani People called (ElueAimo) Dani mountins tribe product salt from Banana Trees by themself. People from other vilages come here cultivation Banana salt. So you will learn how the process from start to end. The procedure you will see when you are at the place.
Then back to the Wamena. Lunch on the way/ Lunch Boxes, Dinner in the restaurant and  Sleeping in the Hotel.
day 2. culture tour (pig feast) in dani traditional village, baliem valley, papua

After breakfast drive to Dani Traditional village watch culture celebration tour.
The feature of the activity they are:
Mock tribal flight and sing songs
Tradtional dances
Fire friction
Kill a pig by bow and bamboo arrows
Cooking sweet potatoes in hole ground with hot rocks.
Lunch in the Village, Dinner in the Restaurant and sleeping in the Hotel.
D3.wamena-sentani-departure from baliem
After breakfast get you back to the Wamena Airport. end service
1 Person 18,000,00
2 people price 20,000,00
Group : 3-5/6 Guest
Price 8,500,000 Per-person
Group 5/6-10 Guest
Price 7,500,000 per-person
ocal English Speaking Guide
Porter
Transportation
Foods

sleeping 2 nights in Baliem Pilamo
Entrance fee according the tour program
Pig Festival
Travel Permit
All plane ticket
Airport
photo tour
tips
any personal need